This backpack is free shipping to both United States & Australia.
Expandable Capacity: 

20L: Unexpanded: 35*20*55 cm (13.8*7.9*21.7 inch); Expanded: 35*24*55 cm (13.8*9.4*21.7 inch). This 38.5~46.2 L travel backpack meets the carry-on requirements in many airlines. Note: Please check with your airline for size restrictions before your trip.

46.2L: 

Unexpanded: 40x25x17 cm (15.75x9.84x6.69 inch); Expanded: 40x25x20 cm (15.75x9.84x7.87 inch). This 17-20L travel backpack meets the carry-on requirements of many low-cost airlines such as Southwest Airlines, Jetblue, Virgin America, American Airlines, Delta, United Airlines, Alaska Airlines, Hawaiian Airlines, Sun Country Airlines. Please check size restrictions with your airline before traveling. It is perfect carry on luggage airline approved and carry on luggage backpack

Large Cabin Suitcase: The main compartment can open 180° like a 20 inch suitcase for easy storage and trip. A plastic buckle holds the elasticated compression straps to keep your belongings in perfect order during transit.
Organized Packing: This item has a side bottle pocket, two front zipper pocket and two interior zipper pockets in the main compartment to organize everything in an orderly way. It is also equipped with two compartments compatible with a 12.9 inch iPad and a 17.3 inch laptop. This bag features an anti-theft zipper pocket on the back panel and a card pocket and a sunglass hanging strap on the right shoulder strap.
3 Ways to Carry: This is not only a travel backpack with premium shoulder straps but also a hand luggage. The trolley strap on the back allows you to secure the bag over the handles of a suitcase.
Breathable and Cozy: The air mesh on the back panel and the comfortable suspension design help relieve shoulder pressure. The chest strap can be adjusted to increase the stability of your pack. The side compression straps are used to minimize the volume of your backpack to bring the load nearer to your back for balance and comfort.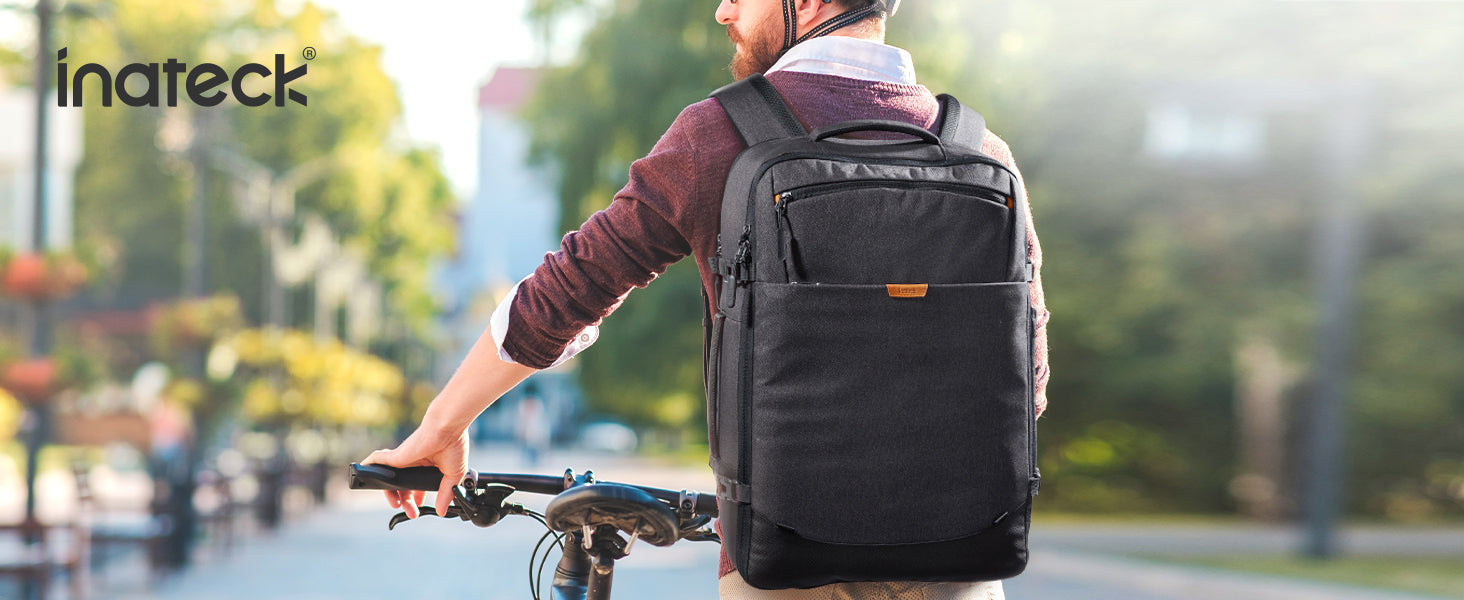 Ingenious Design

Made of splash-resistant material, this backpack can prevent splashes effectively.

The expandable design provides a max capacity of 46.2L for storage space. With a compartment compatible with 12.9 inch iPads and a compartment for 17.3 inch laptops, this carry on rucksack is definitely a great travel companion.

The bottle pocket keeps your water bottle or drink within reach, allowing you to stay hydrated anytime, anywhere.
 
The trolley strap on the back can free your hands to make your trip easier.
 
The padded shoulder straps plus the adjustable chest strap effectively relieve the pressure on your shoulders.

The side compression straps can minimize the volume of your backpack, bringing the load nearer to your back for balance and comfort.

Packing List
1 x Inateck BP03006 Backpack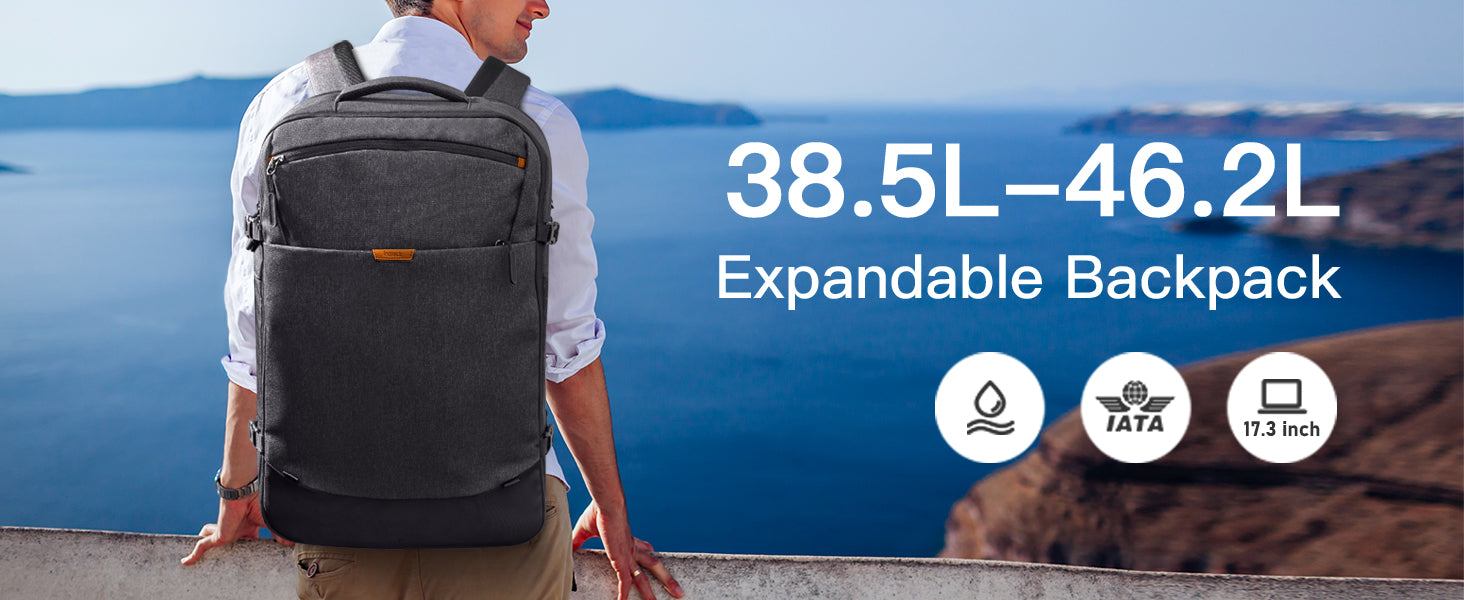 About Payment
1. What payment methods are supported?
Inateck website supports various of payment methods as follows, safe and easy:
Paypal
Credit Card (MasterCard, Visa, Discover and American Express, etc.)
Google Pay
Apple Pay
Shop Pay
Bank Deposit
2. Do I need to pay for the customs tax?
For US customers, there's no extra customs tax and duties at all, as the products on US site are all shipped from our US warehouse directly.
For customers from other countries, usually there's no tax for low-valued products below thresholds. But for products with higher value, tax and duties may occur and you have to be responsible for it yourself. Tax threshold differs from country to country. Please refer to the customs policy according of your own country. 
About Delivery
1. What are your shipping regions?
We delivery to these regions: US, Canada, Mexico, Brazil, Australia, New Zealand, Singapore, India, Hong Kong, Taiwan, Korea, Malaysia, Philippines, Russia, United Arab Emirates. 
If you are in EU, you can order from our Germany site inateck.de, with local Germany delivery.
If you are not within these countries, please kindly Email support@inateck.com, we will guide you how to make the purchase.
2. How much is the shipping fee?
For the orders equal to or over $25 to the US, free shipping is provided, excluding subsidiary islands or remoted areas like military districts of United States.
For the orders less than $25 to the US, the shipping fee is $4.99 for most products.
For all the orders to other countries, the shipping fee depends on the product amount and quantity, please check the specific shipping fee on the checkout process.
Please kindly pay attention:
We don't offer free shipping to certain subsidiary islands of United States, including Virgin Island USA, Guam USA, Hawaiian Islands USA etc.
Some remote areas including military districts, or some bulk items like Tomons lamps may require additional charges. The specific cost depends on the standards of various courier companies.
3. How long does it to take to ship my order?
After your order payment confirmation, we will send the parcel usually in 1-2 business days. It usually takes about 3-7 business days for you to receive it within the US, or 7-10 days outside of it.
4. How can I change my shipping address after placing an order?
In this case, please kindly contact our customer service by Email support@inateck.com within 12 hours. Otherwise, the item will be shipped to the original address and you have to contact the carrier directly yourself.
5. What's your shipping carrier?
We use world-famous USPS or UPS for shipping your products, which can secure the fast speed as well as safety.
6. How to track my order?
Once your parcel is shipped, we will send you an Email with tracking info and link, you can check it yourself afterwards. If you do not receive this Email, please contact our customer service.
7. What should I do if I received the wrong item(s) or an item(s) is missing?
Please contact our service team within 7 days of receiving the wrong item(s) or have discovered you are missing an item(s). We will correct any order errors as soon as possible!
Other FAQ
1. Can I cancel my order after shipment?
Orders cannot be cancelled once they are shipped.
2. How do I return my item?
We provide 30-day money back guarantee for Inateck products. If you have met a quality-related issue and need to return the item back, you can just Email support@inateck.com. Our customer service will help you with the return.
3. How to remove my account registered on your site?
If you don't need the account registered on Inateck site anymore, please contact our customer service by Emailing support@inateck.com, we will help you remove it.
Collaboration Policy
1. Requirements
You are good at photography, making video, or creating content. You have positive interactions with your audiences.
2. What benefits you will get?
Free products trial. If you have done great work, you may get the long-term sponsorship.
3. What you need to do?
You should take photos or videos, complete your content and post them on your blog or social media channel within 30 days of receiving the parcel. When you publish your content, please include the link of the product page or the link of home page(www.inateck.com) if it is possible.
4. Notice
Inateck may collects your photos, videos and contents. For example, we may share it on Facebook and Instagram, or use your photos on our website and on the product page at amazon. If you do not agree, please let us know in advance.