1D Bluetooth® 5.0 Pocket Barcode Scanner with 30m Transmission Range, BCST-41
【Powerful Decoding Performance】Supports reading various kinds of 1D barcodes both on screen and papers, including stained and broken ones.

【Read barcodes on Screen】Equipped with the latest CMOS sensor, the scanner is capable of reading barcodes on phones, tablets, and computer displays, an indispensable companion for mobile payment in grocery stores, libraries, and malls.

【Latest Bluetooth 5.0】With Bluetooth 5.0 technology utilized, the scanner works with more devices and connects your computer, tablet, and POS system more conveniently. The transmission range reaches 30 meters. Compatible with Windows, Mac OS, Linux, Android, iOS operating systems.

【Prolonged Battery Life】Equipped with a 1200mAh rechargeable battery, the scanner works for up to 7-8 hours once fully charged, which is 3 times the battery life of other regular scanners.

【Durable and Sturdy】The scanner is covered with TPU material comprehensively for all-round protection. The product body is designed to be anti-dust and anti-fall, and can withstand falling from a height of 1.5 meters. The button on the scanner can be clicked for over a million times.
BCST-41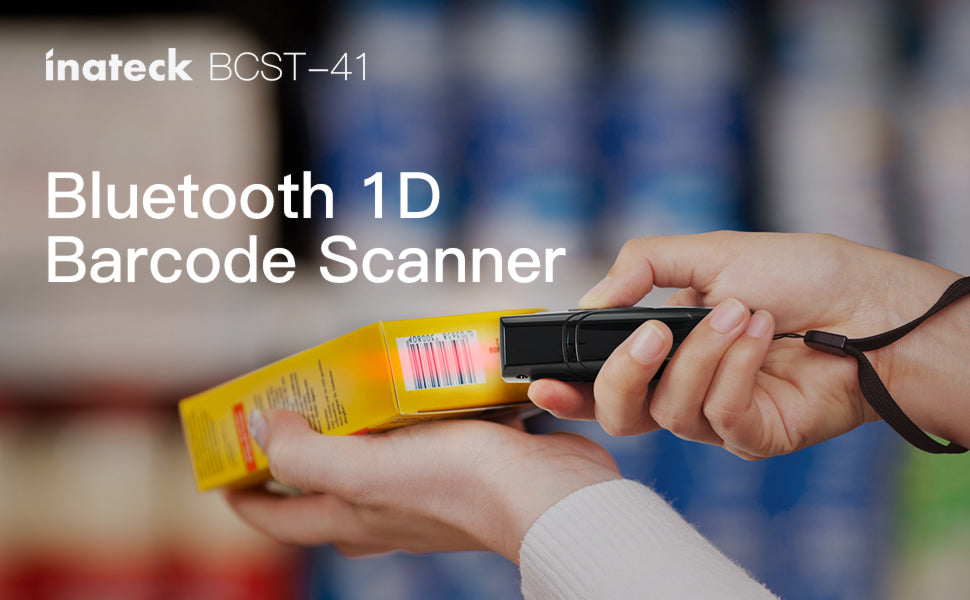 Inateck is an international electronics manufacturer that dedicates itself into producing cutting edge electronic products. We possess our own R&D team as well as factory, and can offer you customized solutions.
Inateck constantly innovates in the sphere of barcode scanners and has become one of the top manufacturers within the industry. Aiming at improving work efficiency and in pursuit of offering our customers excellent service, we keep updating our design concept. And this barcode scanner is no exception.
Light and Compact: The product weighs only 67g, with dimensions 2.7 cm * 3.8 cm * 9 cm. A great convenience for carrying around. A hanging cord and flannelette bag are also equipped to avoid theft.
With Hook: There's a hook at the bottom of the scanner. You may connect a hanging cord to the hook for flexible mobilization like making an inventory.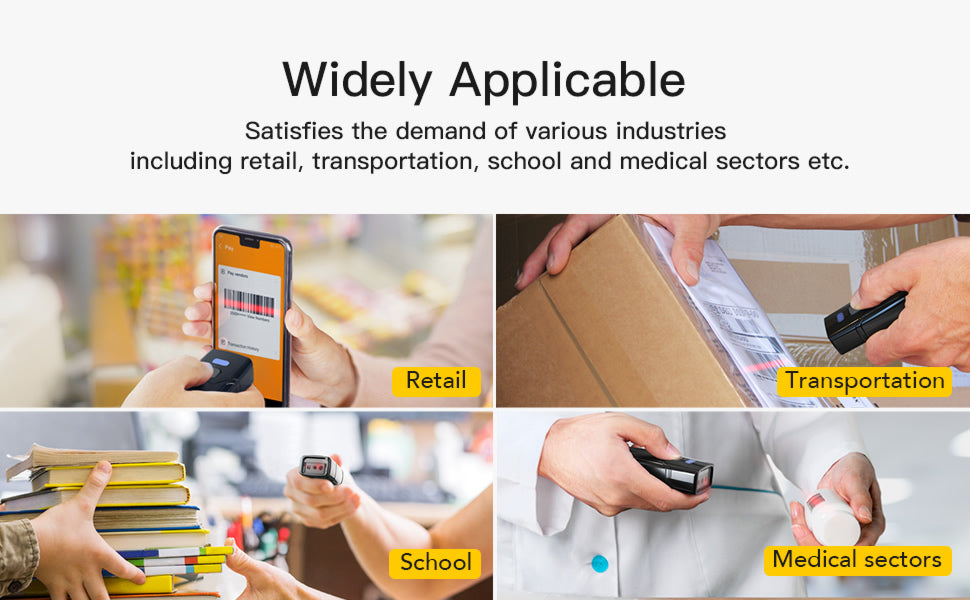 Powerful Decoding Performance
Capable of reading various 1D barcodes on papers or computer screen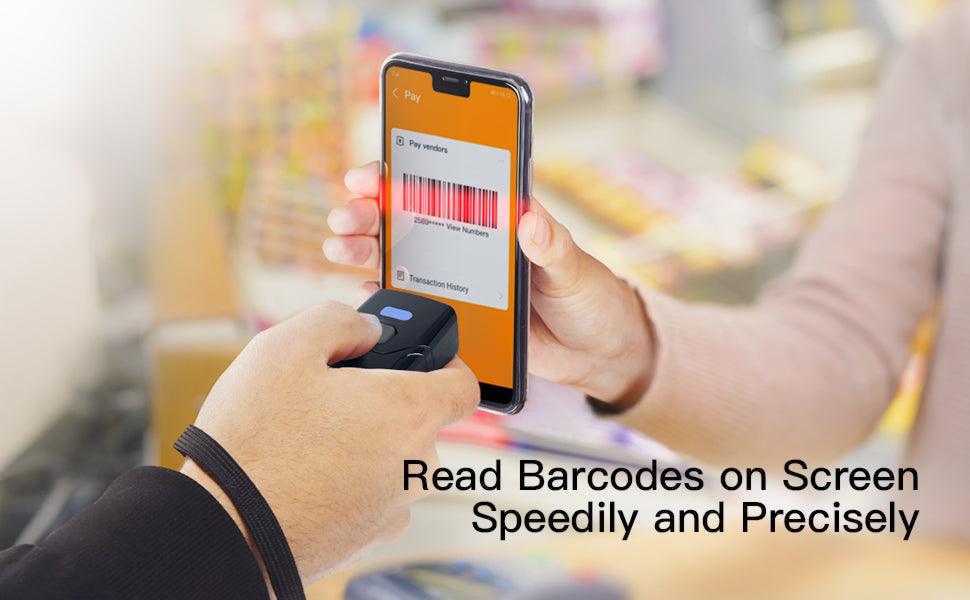 1D:
Codabar, Code 11, Code 128, GS1-128, USPS, FedEx, Code 39, Code 32, Code 93, EAN-8, EAN-13, ISBN, ISSN, MSI, UPC-A, UPC-E, IATA 25, Industrial 25/Standard 25, Interleaved 25, Matrix 25, China Postal Code, Plessey, Telepen
Multiple Connection Ways
Bluetooth 5.0 Mode: No adapter required, you can directly connect the scanner to your phones, tablets, as well as laptops. If your device is equipped with a Bluetooth module, you may need to purchase a Bluetooth adapter on your own.
Note: Unlike other regular scanners on the market, the BCST-41 is equipped with the latest Bluetooth 5.0 technology that supports HID and GATT modes. You may set different modes as per your need by referring to the instruction manual.
USB Mode: Plug-and-Playable
Customized Settings
The customized settings below are available with the BCST-41. Please refer to the instruction manual for detailed illustration. If you have any problem related to our product, feel free to contact our customer service.
1. Select a scan mode: Red Light Auto Shutoff Mode, Consecutive Scan Mode, Manual Scan Mode, Hands-free Mode
2. Multi-Language Keyboards: American Keyboard, German Keyboard, French Keyboard, Spanish Keyboard, Italian Keyboard, British Keyboard, Canadian Keyboard, Japanese Keyboard, Serbian Keyboard
3. Work on Windows, Mac OS, Linux, Android and iOS systems
4. Multiple Reminders: LED light, buzzer, vibration (sound volume and vibration intensity can be adjusted by scanning corresponding barcodes)
5. Prefix and Suffix: Supports adding 32-digit customized prefix or suffix and deleting 99-digit front or end barcodes
Package List: BCST-41 * 1, USB Cable * 1, Instruction Manual * 1, Function Setting Card * 1, Hanging Cord * 1, Flannelette Bag * 1
Multiple Alertsï¼?Satisfies your barcode scanning needs under different environments
Vibration Alert

The vibration intensity is adjustable. It allows users to scan barcodes under the environments that require silence, such as libraries and hospitals.

LED Indicator

Different LED colors indicate different operational status.

Buzzer Alert

The sound volume is adjustable. Users can scan barcodes even under noisy environments.
Anti-Fall Design

The BCST-41 is designed to be ant-dust and anti-fall. Through tens of thousands of tests, we've successfully proven that the scanner can withstand falls from a 1.5-meter height.
About Payment
1. What payment methods are supported?
Inateck website supports various of payment methods as follows, safe and easy:
Paypal
Credit Card (MasterCard, Visa, Discover and American Express, etc.)
Google Pay
Apple Pay
Shop Pay
Bank Deposit
2. Do I need to pay for the customs tax?
For US customers, there's no extra customs tax and duties at all, as the products on US site are all shipped from our US warehouse directly.
For customers from other countries, usually there's no tax for low-valued products below thresholds. But for products with higher value, tax and duties may occur and you have to be responsible for it yourself. Tax threshold differs from country to country. Please refer to the customs policy according of your own country. 
About Delivery
1. What are your shipping countries?
Normally we delivery to the US, Canada, Mexico, Australia and Singapore.
If you are in EU, you can order from our Germany site inateck.de, with local Germany delivery.
If you are not within these countries, please kindly Email support@inateck.com, we will guide you how to make the purchase.
2. How much is the shipping fee?
For the orders equal to or over $25 to the US, free shipping is provided, excluding subsidiary islands or remoted areas like military districts of United States.
For the orders less than $25 to the US, the shipping fee is $4.99 for most products.
For all the orders to other countries, the shipping fee depends on the product amount and quantity, please check the specific shipping fee on the checkout process.
Please kindly pay attention:
We don't offer free shipping to certain subsidiary islands of United States, including Virgin Island USA, Guam USA, Hawaiian Islands USA etc.
Some remote areas including military districts, or some bulk items like Tomons lamps may require additional charges. The specific cost depends on the standards of various courier companies.
3. How long does it to take to ship my order?
After your order payment confirmation, we will send the parcel usually in 1-2 business days. It usually takes about 3-7 business days for you to receive it.
4. How can I change my shipping address after placing an order?
In this case, please kindly contact our customer service by Email support@inateck.com within 12 hours. Otherwise, the item will be shipped to the original address and you have to contact the carrier directly yourself.
5. What's your shipping carrier?
We use world-famous USPS or UPS for shipping your products, which can secure the fast speed as well as safety.
6. How to track my order?
Once your parcel is shipped, we will send you an Email with tracking info and link, you can check it yourself afterwards. If you do not receive this Email, please contact our customer service.
7. What should I do if I received the wrong item(s) or an item(s) is missing?
Please contact our service team within 7 days of receiving the wrong item(s) or have discovered you are missing an item(s). We will correct any order errors as soon as possible!
Other FAQ
1. How to get extended 6-month warranty?
Inateck provides special treat to our FB fans with extended 6-month warranty. How to make it?
Like Inateck FB page here: https://www.facebook.com/inateckofficial/
Send a FB message to Inateck with your order No. and liked screen shot.
We will extend 6-month warranty for you to enjoy a total 18-month warranty for your product.
2. Can I cancel my order after shipment?
Orders cannot be cancelled once they are shipped.
3. How do I return my item?
We provide 30-day money back guarantee for Inateck products. If you have met a quality-related issue and need to return the item back, you can just Email support@inateck.com. Our customer service will help you with the return.
4. How to remove my account registered on your site?
If you don't need the account registered on Inateck site anymore, please contact our customer service by Emailing support@inateck.com, we will help you remove it.
Collaboration Policy
1. Requirements
You are good at photography, making video, or creating content. You have positive interactions with your audiences.
2. What benefits you will get?
Free products trial. If you have done great work, you may get the long-term sponsorship.
3. What you need to do?
You should take photos or videos, complete your content and post them on your blog or social media channel within 30 days of receiving the parcel. When you publish your content, please include the link of the product page or the link of home page(www.inateck.com) if it is possible.
4. Notice
Inateck may collects your photos, videos and contents. For example, we may share it on Facebook and Instagram, or use your photos on our website and on the product page at amazon. If you do not agree, please let us know in advance.