Compatible with: All 10.2-11 inch iPads including iPad 9th/8th/7th 10.2 inch , iPad Air 4th 10.9 inch, iPad Pro 3rd/2nd/1st 11 inch, iPad Air 3 and iPad Pro 10.5 inch.
Compatible with: iPad 2021(9th Gen)/ iPad 2020(8th Gen)/ iPad 2019(7th Gen)10.2 Inch, iPad Air 3, iPad Pro 10,5, iPad Pro 11 2022 4th Gen (Model number: A2759,A2435,A2761,A2762).
Compatible with: iPad Air 4 10.9 inch, and iPad Pro 11 Inch 2021/2020/2018.
Stable Kickstand: Equipped with a kickstand, KB04001 offers you 30°-160° viewing angles and provides superb stability even when placed on your bed or knees.
Detachable Design: The lid can be detached from the keyboard to turn your laptop-like KB04001 to an iPad case, which makes it more convenient to watch movies.
Laptop-like Typing: The high-quality keys of the keyboard ensure perfect bounce and fast typing.
iOS Shortcut Keys: The top row keys allow you to perform shortcuts with one press only such as taking screenshots, locking screen or adjusting volume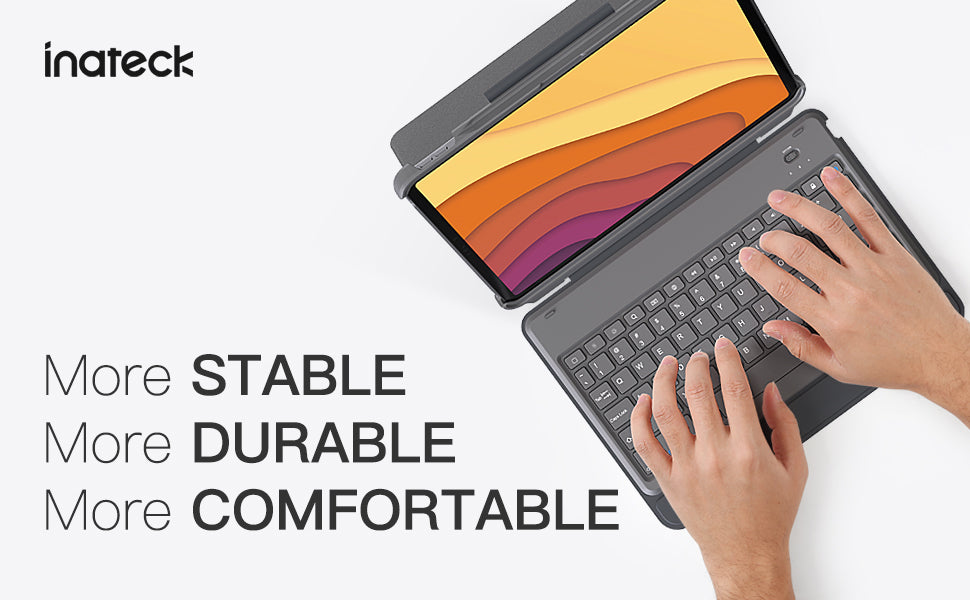 Compatibility
Inateck KB04001 works with all 10.2-11 inch iPads including following ones:
10.2 inch:
iPad 2021 (9th generation): A2602, A2604, A2603, A2605
iPad 2020 (8th generation): A2270, A2428, A2429, A2430
iPad 2019 (7th generation): A2197, A2200, A2198
10.5 inch:
iPad Air 2019 (3rd generation): A2152, A2123, A2153, A2154
iPad Pro 2017 (10.5-inch): A1701, A1709, A1852 
10.9 inch:
iPad Air 2020 (4th generation): A2316, A2324, A2325, A2072 
11 inch:
iPad Pro 2021 (3rd generation): A2377, A2459, A2301, A2460
iPad Pro 2020 (2nd generation): A2228, A2068, A2230, A2231
iPad Pro 2018 (1st generation): A1980, A2013, A1934, A1979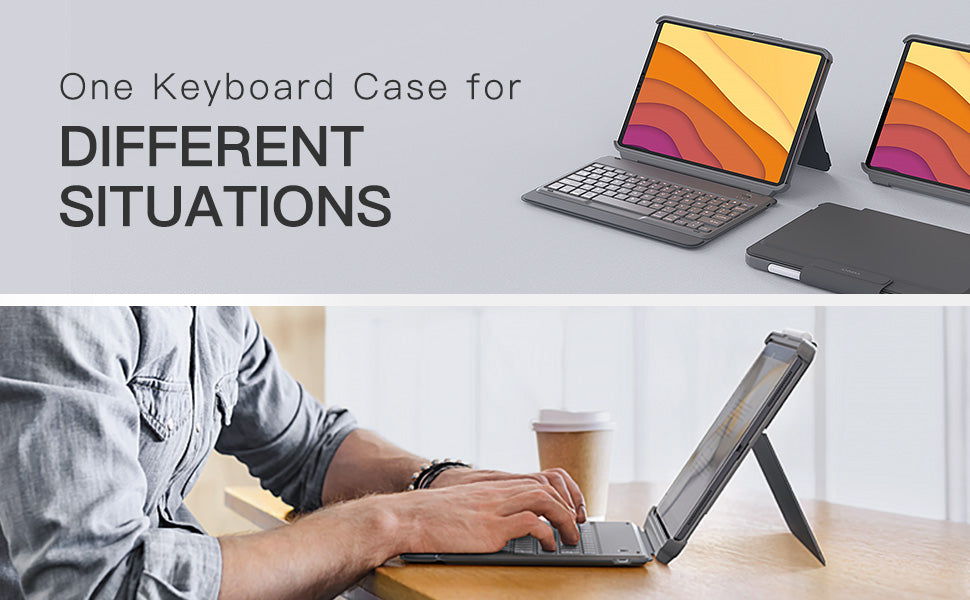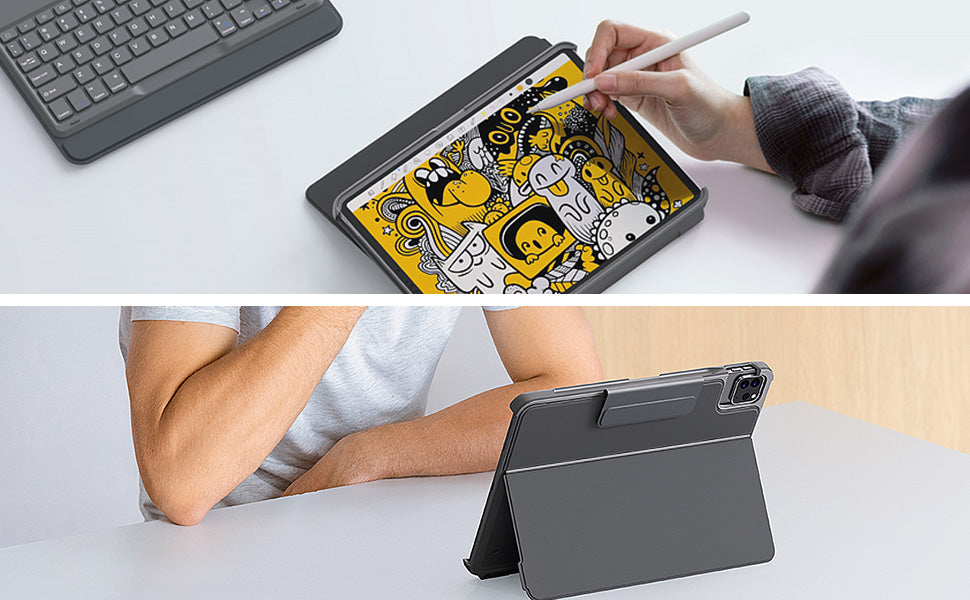 Three Use Modes
Laptop mode
Your iPad turns into a mini laptop instantly once you attach the keyboard to it, offering you a cozy experience for study, work and entertainment.
Viewing Mode:
Remove the keyboard and take the iPad case as an iPad stand. It offers 30°-160° viewing angles, allowing you to find the most comfortable position.
Drawing Mode
Remove the keyboard and adjust the kickstand to a suitable angle for drawing creation.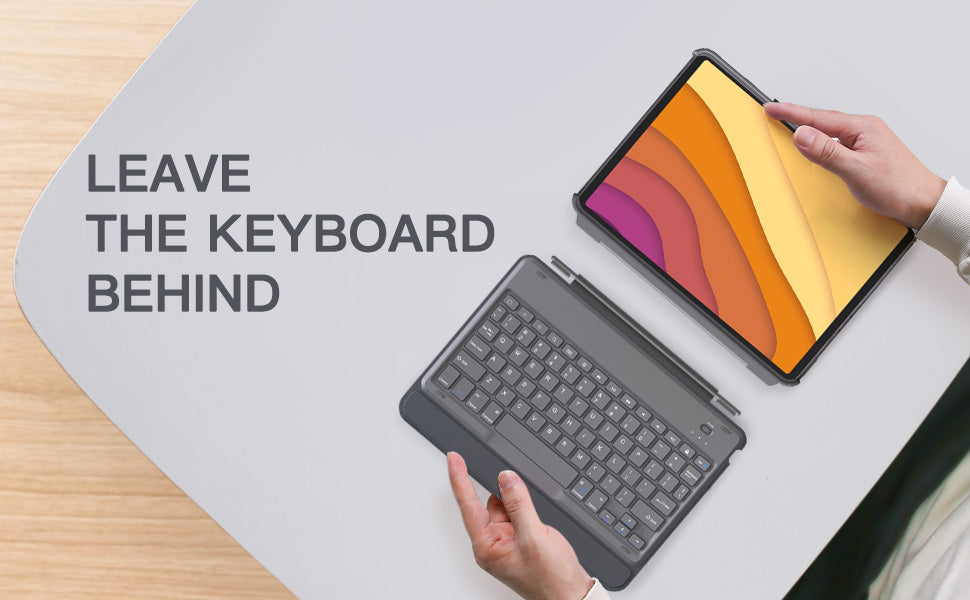 Flexible Kickstand
Connected to a high-quality hinge, the flexible kickstand offers you 30°-160° viewing angles and provides superb stability even when placed on your bed or knees, meeting your various needs.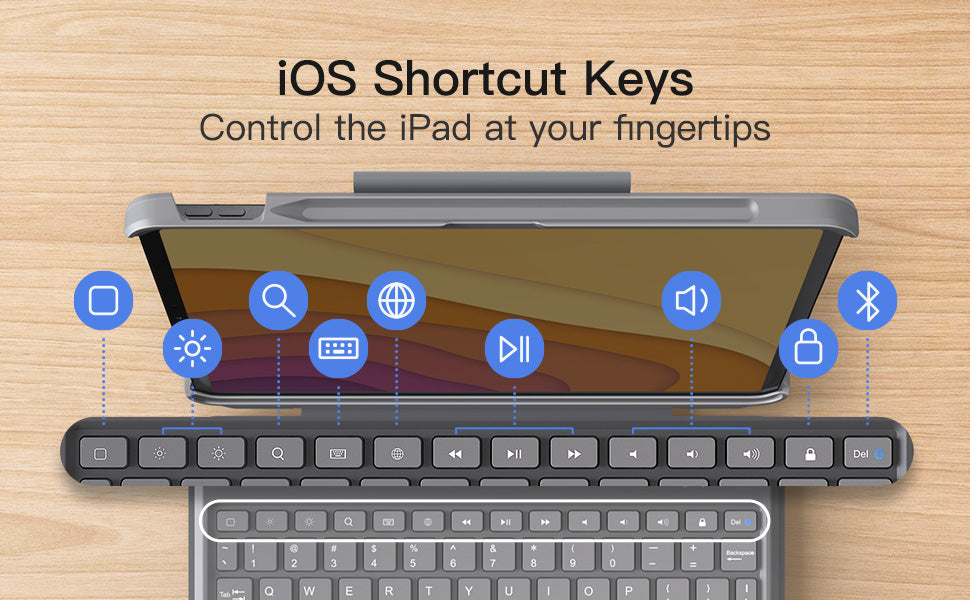 iOS Shortcuts

Highly compatible with iOS, the shortcut keys lined in the first row allow you to perform some actions with one press only, such as adjusting the screen brightness and volume or conducting a search. Farewell to * +Fn key combinations.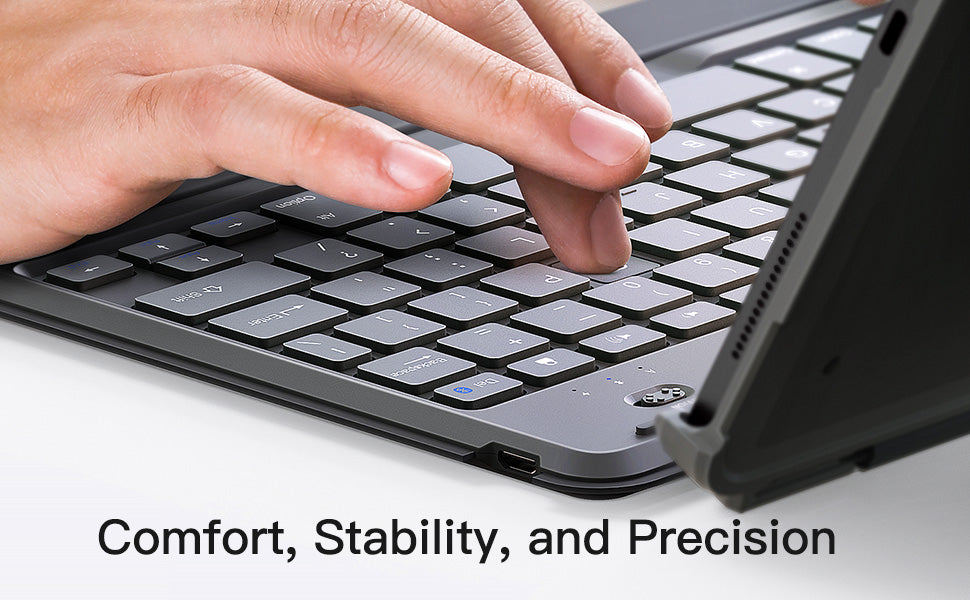 Laptop-like Typing

Premium keys adopted, KB04001 delivers a perfect bounce every time, which makes keystrokes fluid, natural and accurate. This will be right up your alley.
Detachable Design
The keyboard can be detached from the case, which provides more possibilities. KB04001 is a great companion for reading and viewing when the keyboard is detached, and provides an amazing typing experience when it's attached.
Packing List:
KB04001 * 1
Charging Cable * 1
User Guide * 1
About Payment
1. What payment methods are supported?
Inateck website supports various of payment methods as follows, safe and easy:
Paypal
Credit Card (MasterCard, Visa, Discover and American Express, etc.)
Google Pay
Apple Pay
Shop Pay
Bank Deposit
2. Do I need to pay for the customs tax?
For US customers, there's no extra customs tax and duties at all, as the products on US site are all shipped from our US warehouse directly.
For customers from other countries, usually there's no tax for low-valued products below thresholds. But for products with higher value, tax and duties may occur and you have to be responsible for it yourself. Tax threshold differs from country to country. Please refer to the customs policy according of your own country. 
About Delivery
1. What are your shipping regions?
We delivery to these regions: US, Canada, Mexico, Brazil, Australia, New Zealand, Singapore, India, Hong Kong, Taiwan, Korea, Malaysia, Philippines, Russia, United Arab Emirates. 
If you are in EU, you can order from our Germany site inateck.de, with local Germany delivery.
If you are not within these countries, please kindly Email support@inateck.com, we will guide you how to make the purchase.
2. How much is the shipping fee?
For the orders equal to or over $25 to the US, free shipping is provided, excluding subsidiary islands or remoted areas like military districts of United States.
For the orders less than $25 to the US, the shipping fee is $4.99 for most products.
For all the orders to other countries, the shipping fee depends on the product amount and quantity, please check the specific shipping fee on the checkout process.
Please kindly pay attention:
We don't offer free shipping to certain subsidiary islands of United States, including Virgin Island USA, Guam USA, Hawaiian Islands USA etc.
Some remote areas including military districts, or some bulk items like Tomons lamps may require additional charges. The specific cost depends on the standards of various courier companies.
3. How long does it to take to ship my order?
After your order payment confirmation, we will send the parcel usually in 1-2 business days. It usually takes about 3-7 business days for you to receive it within the US, or 7-10 days outside of it.
4. How can I change my shipping address after placing an order?
In this case, please kindly contact our customer service by Email support@inateck.com within 12 hours. Otherwise, the item will be shipped to the original address and you have to contact the carrier directly yourself.
5. What's your shipping carrier?
We use world-famous USPS or UPS for shipping your products, which can secure the fast speed as well as safety.
6. How to track my order?
Once your parcel is shipped, we will send you an Email with tracking info and link, you can check it yourself afterwards. If you do not receive this Email, please contact our customer service.
7. What should I do if I received the wrong item(s) or an item(s) is missing?
Please contact our service team within 7 days of receiving the wrong item(s) or have discovered you are missing an item(s). We will correct any order errors as soon as possible!
Other FAQ
1. Can I cancel my order after shipment?
Orders cannot be cancelled once they are shipped.
2. How do I return my item?
We provide 30-day money back guarantee for Inateck products. If you have met a quality-related issue and need to return the item back, you can just Email support@inateck.com. Our customer service will help you with the return.
3. How to remove my account registered on your site?
If you don't need the account registered on Inateck site anymore, please contact our customer service by Emailing support@inateck.com, we will help you remove it.
Collaboration Policy
1. Requirements
You are good at photography, making video, or creating content. You have positive interactions with your audiences.
2. What benefits you will get?
Free products trial. If you have done great work, you may get the long-term sponsorship.
3. What you need to do?
You should take photos or videos, complete your content and post them on your blog or social media channel within 30 days of receiving the parcel. When you publish your content, please include the link of the product page or the link of home page(www.inateck.com) if it is possible.
4. Notice
Inateck may collects your photos, videos and contents. For example, we may share it on Facebook and Instagram, or use your photos on our website and on the product page at amazon. If you do not agree, please let us know in advance.